Top fun experiences in Dublin, Ireland that you cannot miss
Take your Dublin trip to the next level!
Dublin, a famous international city that feels as comfortable and familiar as your own home town. Whether it's the welcoming spirit of the native Irish or the welcoming spirits found in pubs, you'll feel embraced and entranced by Dublin.
Experience the Guinness Factory
The Guinness Factory is a self-guided experience through the founding, the making, the transportation, and more of Guinness in its multi-leveled warehouse. Plus, you get a free drink with the price of admission!
Location: St. James Gate, Dublin 8, Ireland
Hours: 9:30 - 5  (you can stay in the factory until 7)
Cost: 16 - 18.50 Euros per person online, the walkup rate is 25
Go to the Jameson Factory
The Jameson Factory is similar to the Guinness Factory in what is shown and provided for you, however it is much smaller and more low key, with a guided tour instead of a self-guided one.
Location: Bow St. Smithfield Village, Dublin 7, Ireland
Hours: 10 - 7, 8 on Fridays and Saturdays
Cost: around 20 Euros, online it says 19 but in person I believe it was 20
Tip! - Brace yourself for the shots of whiskey you take at the end, they have three shots showing the difference between Bourbon (slightly sweeter), Jameson (kind of nutty and buttery), and Scotch (literal smokey death).
Wander around Grafton Street
Even if you haven't heard of Grafton Street from Ed Sheeran's "Galway Girl" or from the movie Once, it's still worth a visit! It remains within the top 20 most expensive shopping streets in the world and lies at one end of St. Stephen's Green.
Whereas nowadays it has a reputation for pedestrians of every nation and buskers on every corner, the street used to have a far more salacious history. In the 19th century, Grafton Street was the hotspot for hookers (don't worry I'm pretty sure you won't see one these days).
Tip! - This street is where I got a SIM card that allowed unlimited data for a month for only 20 Euros. Check out the 3 Store!
The favorite Irish pastime - drinking! Listen to Irish music in bars with odd names, like the Hairy Lemon. Some of the oddest pub names in Dublin can lead to the most interesting experiences you'll have on your trip.
Tip! - Get a Guinness Beef Stew at one of the pubs, you won't regret it!
If you decide to look for a night more dedicated to clubbing, realize that Dublin isn't known for its clubbing scene and you may be a little disappointed, especially if you have been to cities that have amazing clubbing - hello Seoul.
Keep in mind - For those fellow tall girls out there, the stereotype of Irish guys being short is very true (at least in my experience, but I'm also 6'0). Every time I had a night out on the town with my girls I was a good couple inches taller than most guys and I cannot recall a single guy significantly taller than me. Also, if you have RBF like me, guys will most likely comment on it.
Go to the Temple Bar Area
Although a bit touristy for locals, the Temple Bar Area is popular for a reason - it's really fun!
Look here for other tourists looking to indulge in (slightly overpriced) drinks and Irish fare. There will be nonstop songs, dance, drinks, food, and sports on TV, ready to leave you awash with Irish spirit.
Tip! - I know Cornish Pasties are a British thing, but I had the most unbelievable snack at Hanley's Cornish Pasties! It's right in the little alleyway that connects Ha'penny Bridge to the Temple Bar Area (look up Merchant's Arch or the bar and restaurant and you'll find it!) It even works out for those with food allergies, there being vegetarian options and at least one dairy free option (this was my choice, just ask for the spiciest option on the menu).
Tip! - Additionally, Mosa Bubble Tea and Coffee (right next to the pasties) was an absolute gem, bringing to mind those cute cozy cafe's from my trip to Asia. They have bubble tea and absolutely Instagrammable bubble waffles full of ice cream! The walls are full of colorful post-it notes from other travelers so feel free to add one (I couldn't eat here due to my food allergy, but I left many a post-it).
Dating from the 18th century, Dublin Castle has had many occupations and has changed appearance many times. It has been used for defense, for parliament, for rulers, for the military, etc. Currently it's used for a museum for tourism and for formal and informal state events.
Keep in mind that Dublin Castle is not exactly what one pictures when they think of European castles. Sleeping Beauty is not waiting in a lofty tower, Cinderella is not leaving her shoe down any of those steps. It is small to say the least, but that does not play down its significance to history and the importance it still holds to Ireland.
Cost: Guided Tours - 6 Euros for children, 10 for seniors and students, 12 for adults
Self Guided - 4 Euros for children, 6 for seniors and students, 8 for adults 
While it isn't the Nile, or the Danube, or even the Thames - the River Liffey has a charm all its own. It resides in the heart of Dublin and separates the city in two, the North Dubliners and the South Dubliners - each with their own interesting stereotypes about the other.
There are many bridges that cross the Liffey, some being only pedestrian and others a mix for both people and cars, however the most picturesque for me was the Ha'penny Bridge (which is officially named the Liffey Bridge but nobody calls it that). Wait for dawn or dusk and take gorgeous pictures of the colors streaking against the Dublin city backdrop.
(Ironically, the bridge above is not the Ha'penny Bridge) 
Trinity College is in the heart of Dublin, next to the Irish Houses of Parliament and a short walk away from Temple Bar. It is Ireland's oldest standing university and one of the most prestigious universities in Europe, on par with Cambridge and Oxford of which it mimics in design.
Take a tour and learn about all the odd superstitions that Trinity College has. For instance, one of the most famous superstitions is that if you walk under the Campanile - the beautiful bell tower (above), you'll fail your exams!
Tip! - You can get a bus card here and Irish university students get discounts.
See the Book of Kells in the Trinity College Library
One of Ireland's national treasures, the Book of Kells is a Gospel book of the Christian New Testament. Even among Gospel Books, the Book of Kells is widely known for its highly-detailed, gorgeous visuals and brilliant use of color for the time.
Get to the library early because the Book is a popular attraction. Two of the four volumes of the book are always shown and are rotated. The library also contains other Irish treasures and by itself is absolutely gorgeous (see below). It is also a legal deposit, where all publishers must give a copy of their books for free as a donation to the progress of the library.
It is a wonder that the book has survived as long as it has, and intact at that. There are many theories, the most popular being that the book originated in Iona and was brought to the Kells Abbey to be completed. Then when the Vikings raided the Abbey, they ripped the ornate cover from the book, but left the book behind. The Oscar-nominated animated movie The Secret of Kells shows this fictionalized history of the book and how it was made.
Cost: Online tickets are between 11-14 Euros 
This is a great pastime for the history lovers and the cheapskates of the world. Ireland has a bountiful amount of artifacts and information about its past, each housed in beautiful structures all around Dublin, and most are free!
Tip! - My personal favorites were the National Gallery of Ireland (free and in a cluster of many other free museums on the south side of the river) and the Irish Emigration Museum (new and costs anywhere from 7.50 - 13 Euros, on the north side of the river). 
Go to St. Stephen's Green
If you're in the Grafton Street area or near the national museums of Ireland, this is a great spot to hang out in the sun (when it comes out) and take a moment in nature.
The park is one of the largest in Dublin and draws some of the most foot-traffic in the city, meaning the park is permanently ingrained in the hearts of the people. The Pride Parade passes by the park, a large shopping center has been located near since the late 80s, and for those history buffs out there - the park saw some action during the 1916 Easter Rising (didn't go so well for the Irish but is still significant).
Take a trip down to Wicklow
Wicklow is nicknamed the "Garden of Ireland" for a reason, and with Ireland being such a green, gorgeous country to begin with, you'll think you're in paradise!
For more information, click the link below!
https://thegeekygallivant.com/2018/06/13/ireland-sightseeing-in-wicklow-county/
Dublin is an amazing city, but my favorite part of Ireland was the countryside. Being too young to rent a car didn't detour me one bit, because Ireland actually has lots of options to get you around!
We used a Citylink bus to get to Galway and back. It was an express bus so went very quickly, but luggage space was limited and it was a if-you-snooze-you-loose situation. The bus itself was very crowded and was filled with all manner of people, including some very polite people and others who think talking loudly on the phone for all to hear is something we all want to enjoy. However, we got there fast, it was clean, relatively cheap, and it was easy to figure out.
To get to Belfast we used an aircoach which was WONDERFUL, it was reasonably spacious, not that crowded, and had little outlets for us. The drivers were also very kind and allowed us to switch our ticket on the spot for the bus an hour later to make up for people who were late.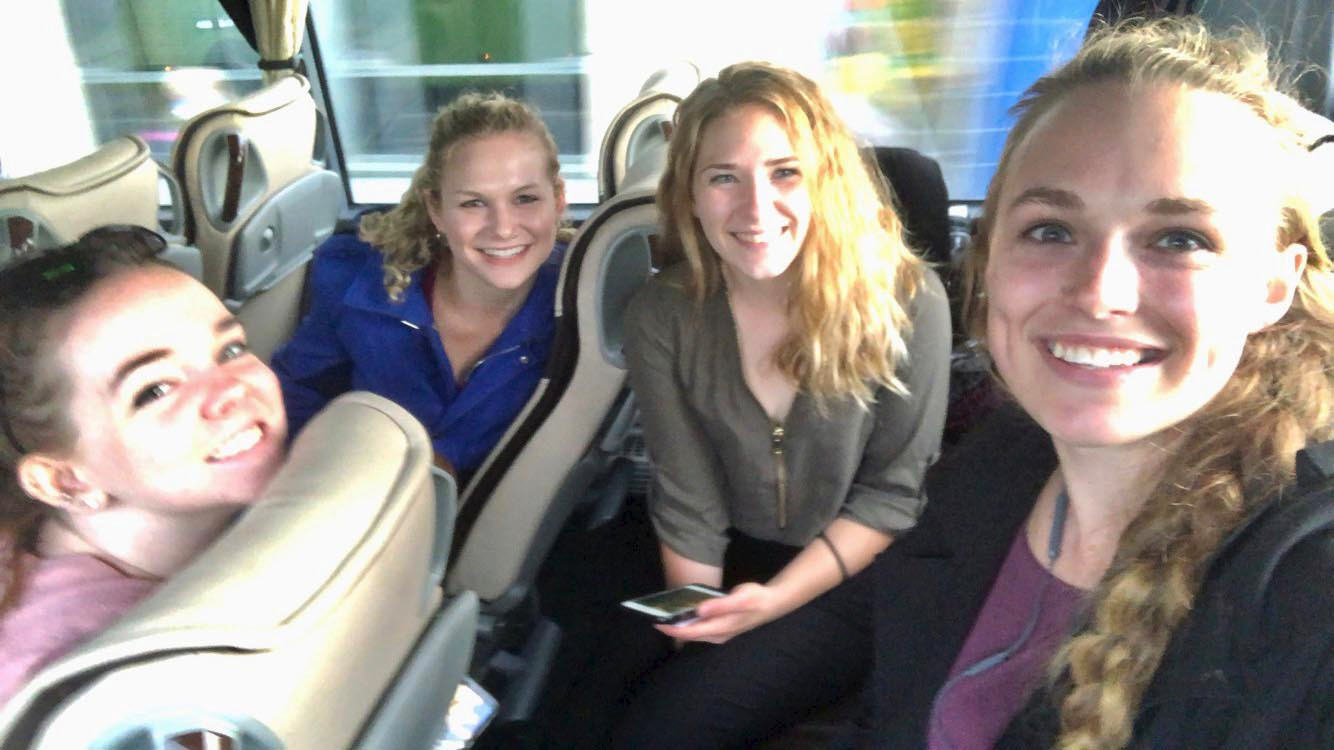 What I wish I had taken more were Paddywagon tours! They're probably the most famous tour group in Ireland and have so many options to choose from. Also, the prices were very cheap considering this is a well-done tour with top-quality travel guides and comfortable transportation.
I went on a one day trip Paddywagon tour to Wicklow and Kilkenny with my friend and we both absolutely loved it! She then went on an additional trip by herself to the Cliffs of Moher and said that it was also amazing and well-organized.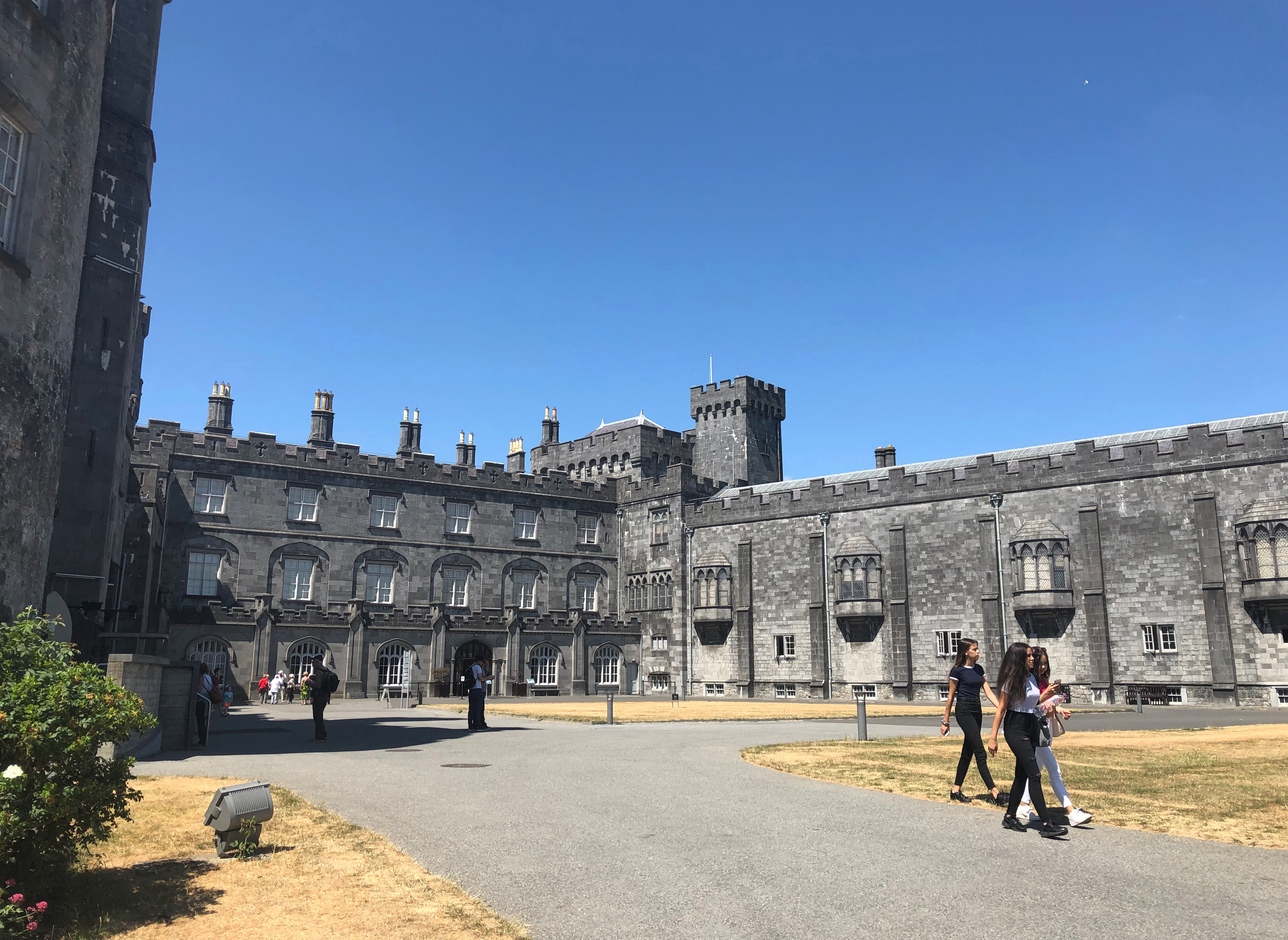 Experience a Gaelic Sport
I had never heard of Gaelic sports before living in Ireland, which is a shame because they are totally badass! Catch a game in person, or at a pub, or join in for a friendly game in a park.
For  more information, click the link below!
https://thegeekygallivant.com/2018/06/02/ireland-gaelic-games/
Bonus
I didn't go because of timing and cost, but a few friends went and enjoyed it a lot!
A brief look at their website for a show in June showed that one ticket was around 30 - 60 Euros depending on location (and June is a touristy month for them, so that's bound to be higher than in the off season). 
For some reason when I visited Dublin many of the more famous cathedrals were closed for repairs or had odd times due to some holiday or practice, so I didn't go to any in Dublin - however, I'm also not religious and that wasn't a big deal for me, but I know many people who enjoyed cathedrals like St Patrick's. 
Dare to enter Kilmainham Gaol
A prison seen heavily in scenes of Shawshank Redemption, Kilmainham Gaol is an odd little attraction that is reasonably close to Dublin's city center. I never visited because I didn't hear about it until very late and my internship took up most of the time I had left in Dublin. 
I did have a friend try to visit, but apparently the tickets are timed and can be hard to acquire (look them up and buy in advance). Those I know who did enter told me tales of executed rebels and children imprisoned alongside their mothers.